Kitchen Remodeling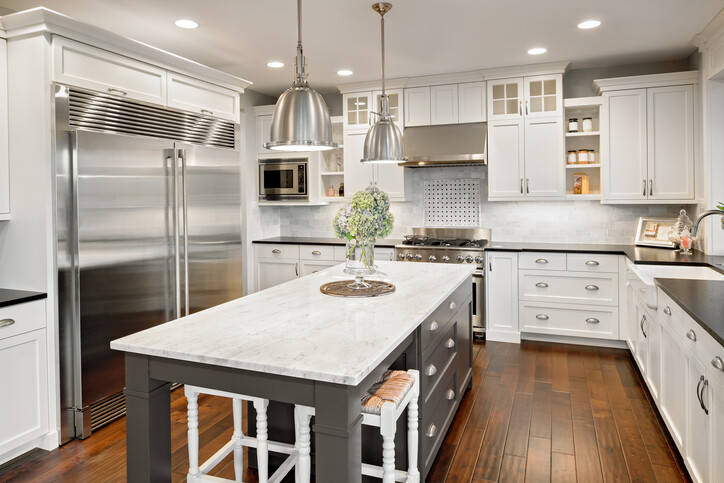 Is your kitchen outdated or is its configuration less than optimal to allow for smooth workflow? Your kitchen is probably the most utilized room in your home. Whether it is time for some simple cosmetic updates to bring up to date or you are looking for a contractor to create a more functional space, Five Star Exteriors of MN LLC can help. Our team has specialized in remodeling kitchens since 2009.
---
Call for a FREE Quote
---
Five Star Exteriors of MN LLC's Kitchen Design Service
From concept to project completion, Five Star Exteriors of MN LLC's remodeling pros will follow through on each step that we agreed upon in the beginning. From small updates to large scale remodeling projects from floors to cabinets to counters, calling Five Star Exteriors of MN LLC is a great first step. Tell us your goals and the styles you like most. We'll build a kitchen that will incorporate your wishes and match it to the existing architecture and style of your home. The result is a beautifully designed kitchen remodel that will bring your goals to light.
Full Kitchen Remodeling Services Offered
Five Star Exteriors of MN LLC provides a team of kitchen remodeling experts that will handle each step of the process efficiently and precisely. From installing flooring to removing old cabinets and replacing with gleaming new granite. When trust Five Star Exteriors of MN LLC with your kitchen remodeling project, each and every detail will be caught. We have team members on the ready to replace fixtures, update plumbing and even handle the electric work and painting. You name it, we've got you covered.
Planning Your Budget for Kitchen Remodeling
How expensive is it to complete a full kitchen remodel? We are often asked about the pricing of remodeling, and there are many factors that make up the cost. Do you want "top of the line" everything, from appliances to cabinets? Are there areas you can cut back to ensure you stay within your budget? Five Star Exteriors of MN LLC can work with a range of budgets to produce beautiful and functional kitchen updates. No other remodeling company delivers the level of quality, service, and problem-solving around your budget that Five Star Exteriors of MN LLC can.
Just a few ideas on where people might scale back to make their kitchen remodeling project more affordable include:
Refacing cabinets: If your existing cabinets are solid wood in good condition, you might choose to replace just the doors to add a more modern style.
Layout: Many homeowners save money when pipes and heating components do not have to be moved. If you are able to work with the original layout of the room, you will save quite a bit of money.
Open a Wall: If you are looking to create a more airy, light feel, consider a cutout, rather than removing a wall. This will reduce the expense of dealing with a load-bearing wall and having to move electrical wires and pipes.
---
Call for Fast FREE Quote
Dial Area Code first please.
---